January 30, 2011 –
Hi Cynthia –
Just wanted to let you know that both Saphira and Renno passed their Tracking Dog tests today!  They both did really good…I am very proud of them!  Tired, but proud!
Hope everything is going good there.
Sharon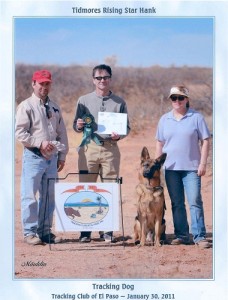 ---
January 18, 2011 – Tidmores Rising Star Hank TDI, RN
Hi Cynthia –
Just wanted to let you know that Renno got his Rally Novice title this weekend!
He did really good handling all the noise and commotion of his first indoor show.  Very solid, not bothered by anything.   We  received many compliments on how beautiful he is.  Several people, including one of his judges, were commenting on how nice it  was to see a correctly structured Shepherd…all the way from his  ears to his rear angulations.  And he never met a stranger!  Everyone was taken by his wonderful temperament and he made many new friends.
So, once again, you should be proud of the hard work you do to breed such wonderful companions!
Thank You!
Sharon
Beauty X Dryker son 2009