TIDMORES RISING STAR MYSTIC WILLOW, CGC, TDI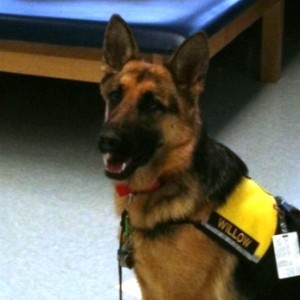 __________________________________________________________________
October 9, 2014
Hi Cynthia,
Zephyr and Willow are both doing really well and enjoying the cooler days. I would like to share another happy moment in the dogs' life. Zephyr was the first to work with the young lady in the photos. I will call her Megan. Megan suffered a severe spinal cord injury in a car accident. When we worked with her the first time, she could not stand and had little control of her lower body. Zephyr worked with the therapists to help Megan with balance exercises in the gym. Megan really enjoyed working with Zephyr and Zephyr seemed to take an especially "gentle" and protective approach with Megan. The next week, I brought Willow to visit Megan. She had progressed a lot in the previous week. Megan has an incredible work ethic. She was standing with a walker, and had taken just a few steps. (I found this out later) Then along comes little Willow. Willow was very engaging and affectionate with Megan, being her usual goofy, lovable self. We played for awhile and then the therapist asked Megan to stand and take a few steps with her walker. I asked her if she would like to take Willow for a walk. Yes, she very much would like that. So I hooked up Willow's leash and handed it to Megan so she could hold it and her walker at the same time (SOP for walking with a walker) and off we went with her therapist behind but not assisting in any way. That's where things got strange. The staff, therapists, nurses and a doctor who just happened to be there stopped what they were doing and just watched us. I didn't really know why, I just focused on Megan and Willow. I asked Megan if she would like to walk to the end of the hall and look out the window so I could show her what Willow and Zephyr ride in. She did, so we pressed on down the hallway with Megan walking slowly but quite normally. We stood at the window and I asked Megan to guess which vehicle was Zephyr and Willow's. We laughed when she sure enough picked the Jeep!!! We then turned around and walked back down the hall. Megan kept saying, "I can't believe I am doing this!" We had a small audience of awe struck staff as we returned. It turns out this was the first time Megan had taken more than just a couple steps. And to take such a long walk placing one foot in front of the other in a perfectly normal manner was quite stunning to all who saw it! Willow took it all in stride. She has learned to walk slowly and watch the front wheel of the walker to gauge her position and she does that very effectively and with exceptional focus. After we sat down, Megan enthusiastically said, "I want to do it again!!!" I told her she better rest awhile and not get too worn out all at once! We all laughed. The photo was taken by Megan's aunt right after she sat back down from her walk.
The staff later briefed me on how miraculous this walk was after weeks of intensive therapy. I just feel so privileged to be a part of such momentous moments in a patient's recovery. And knowing that the near magical skills of Zephyr and Willow make it happen.
Zephyr is now registered as an AKC Distinguished Therapy Dog. This is AKC's highest therapy dog title. Willow just turned 2 and is quickly accumulating hours of service and a resume of exploits! I will title her soon.  
I hope all is still going well with you. I keep up with your dogs on their website! The last litter looked really nice. I can't wait to see how they develop.
Stay safe and healthy.
Carol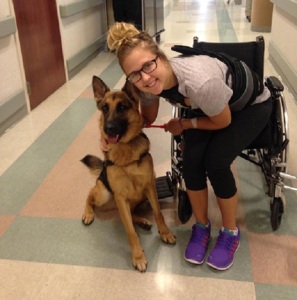 __________________________________________________________________
January 14, 2014
Hi Cynthia,
I thought you might enjoy a few recent photos of the girls. Both Zephyr and Willow have worked with this patient at Jim Thorpe. These folks are very impressed with both dogs. They have visited your website and are interested in one of your pups which we may train as an assistance dog for Dakota (the patient). Just wanted you to have a heads-up in case they contact you.
Willow is proving to be an outstanding physical therapy and speech therapy assistant. Everyone is always thrilled when she comes because of her happy, enthusiastic nature. You just can't help but smile when you see her in action. She continues to learn new skills each time we go to the hospital.
Also, Willow was awarded her AKC Canine Good Citizen this week, so she now has another patch for her vest!