December 9, 2016
Open FAST title. She was 5 seconds under time with 74 points. She only needed 55.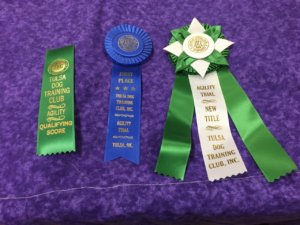 ___________________________________________________
May 15, 2016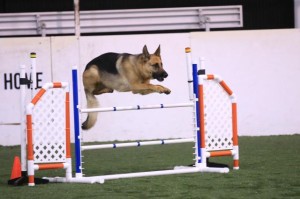 UACH,URO1 Tidmores Rising Star Lydia "Mayhem" CD,BN,AX,OAJ,NF,RE,HT,TC,CGC,
I just received my letter from the GSDCA. Mayhem (Tidmores Rising Star Lydia) – has completed the requirements for the GSDCA Performance Award of Merit or PAM award. We will be honored with the rest of the recipients in a ceremony at the Nationals in October.
Very proud of this little girl! Her half brother also completed his PAM too.
Mayhem actually completed the requirements in November but I had not sent the stuff in until last month. So at 3.5 she is a PAM recipient. Pretty amazing!
Note from Cynthia:  This is not an easy task.  Kathy and Mayhem and also Rowdy and Jenn have accomplished a LOT!!!
Performance Award of Merit (PAM) Given in recognition and appreciation of animals who display the versatility of the breed by performing in a variety of different performance events. To be eligible for this award a dog must have completed titles in three (3) different performance areas including:
Obedience & Rally
Tracking
Herding
Agility
Working Dog Sport
GSDCA-WDA
One of the titles must be from the highest level of training, UD, AX, or AXJ, HX, TDX, or VST, SchIII.
_________________________________________________________________
URO1,UAG1 Tidmores Rising Star Lydia "Mayhem" BN,RN,NA,HT,CGC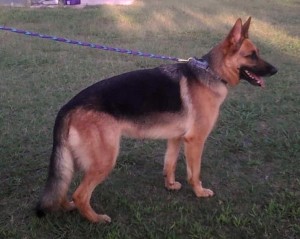 __________________________________________________________________
July 21, 2014
May earned her AKC NA last weekend in Springfield , MO. We also finally got our first jumpers leg. Still need 2 more for the NAJ title. Jumpers has always been a problem for me as I am not very fast myself.
I was hoping to add a brag about a UKC Agility 2 title but we only got 2 legs this weekend. Need 1 more yet. COurses were very tough and tight and she dropped a bar in 2 of her runs as I was out of position and cut into her path. I won't go any higher in UKC as the courses are just too tight for a large dog. I will finish this title eventually, might be a while tho.
So we trial in AKC again Labor Day weekend and have moved up to Open Standard.
A few pictures.
---
April 27, 2014
May's last HT Qualifying leg. First herding title. 
---
March 18, 2014
Mayhem (Tidmores Rising Star Lydia) earned her first UKC (United Kennel
Club) agility title this past weekend. Little May qualified on all four of her runs with very fast times. On Saturday we placed first and second. On Sunday her handler had a few errors and knocked us out of the ribbons but we still ran well and qualified. This little girl is fast! We had lots of compliments on our runs and how focused May was.  A few people wanted to know where this fun girl came from and I was proud to say Tidmores Rising Star. Even the judges came by to compliment us. Mayhem knows her job out there.  This weekend we go to our second AKC (American Kennel Club) agility trial and hope to come home with a few more Q's!
Submitted to me by: Kathy Woodbury
 Beauty X Arthos daughter 2012
---
January 26, 2014–  Tidmores Rising Star Lydia, RN, BN, aka Mayhem, gets her first NA leg!!
https://www.facebook.com/photo.php?v=755662334463865&set=vb.100000603171776&type=2&theater
---
October 26, 2013 – Tidmores Rising Star Lydia, RN, BN aka Mayhem- Mayhem finishes up two titles over the weekend. Proud of this girl and her owner Kathy. Way to go team!!!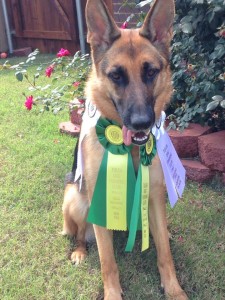 ---
October 19, 2013— Tidmores Rising Star Lydia aka Mayhem doing Lure Coursing and Loving it. Photos the awesome work of Joe Stewart.
---
TIDMORES RISING STAR LYDIA aka Mayhem
October 5, 2013–
Tidmores Rising Star Lydia aka Mayhem with her owner Kathy Woodbury did AWESOME at the The German Shepherd Dog Club all breed obedience trials in OKC, Oct. 5, 2013. Kathy had May entered in 4 rings she Q'd in all!!! Second show she went high scoring GSD!!! Way to go May & Kathy, you make a breeder proud!!!