December 9, 2016
I actually meant to text you last night, figured you could use an update – good timing!
We're doing great – puppy school was finished early fall and I'm looking at the next classes. Doing a lot of work with her on my own and she's coming along well.
I'm not keeping her in the crate anymore when I leave, and she's done exceptional with that. The one time she chewed on something it was my fault as I forgot to grab her benebone from my office that I keep closed up – lesson learned…
Other than that she's a joy – extremely smart, great temperament, and I'm loving seeing her personality come out at times. Didn't really expect that and it's been great.  She's recently gotten a stubborn streak now and then, but I expected that at some point – she is a GSD after all haha.
To sum it up – couldn't be happier! Thanks for checking in Cynthia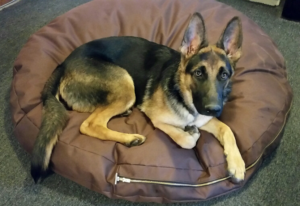 Tank X Cinder girl born early 2016
_________________________________________________________________
May 23, 2016
Tidmores Rising Star Magnum, aka Levi DOB 8-27-2012
Esko X Cinder son
Cynthia
Here are three pics of Levi.  One of Cinder's pups and of course in my opinion one of her best looking pups.😃
Sonya
________________________________________________________________
May 13, 2016
Hi Cynthia!
I will be sending you some professional photos of Zephyr that are being used for Jim Thorpe's advertising when I get them. But for now… here are a couple of photos of Zephyr getting professional makeup before her photo shoot last Wednesday. Had to cover that pesky grey hair!!!!  She was so cooperative it made everyone laugh! Zephyr is a treasure. She is so kind and loving! Her latest new venture involves working with the OK Parkinson's Foundation's "Speak Out" program which provides speech therapy for Parkinson's patients, up to 20 at a time in a group setting. I have been wanting to get the girls involved in this program since its inception a couple years ago. The first sessions were absolutely fantastic & effective! I will eventually be using both Zephyr and Willow for this therapy. Both girls continue working at Jim Thorpe on a weekly basis and we have picked up some Home Health spin-offs. Attached are some photos taken yesterday of our favorite patient, Betty. (I have written permission for you to use any of these for your website.)
Betty and Zephyr
____________________________________________________________________________
May 6, 2016-
Tidmores Rising Star Uraya, aka Lexi
Nikon X Honey daughter, DOB 9-7-15 
Hi Cynthia,
Congratulations on new puppies! They are so cute!
Lexi is doing great! We finished basic obedience and last week she was tested and she passed!!! She will get her Certificate in a week or so and then we'll brag about it!
She mastered heel, sit, down, sit from down, stay and was able to stay for 90 seconds with me 15 ft away. She knows few tricks too and we'll start learning more fun stuff.
We graduated to group class and in a few months we'll start working on building her confidence for Protection.
I found a Schutzhund club here and will probably look into that when she is old enough, but for right now we'll keep socializing and working on obedience and protection.
Her favorite toy is flirt pole but she doesn't care about the toy, instead she chases a rope/string.
She is a digger so I'll have to set up a sanbox in the backyard. She loves water and I'll send few videos I made today.
She has calmed down and we are going to more crowded places to get her used to different people. For some reason she doesn't like rowdy kids but honestly I don't blame her LOL.
Bob and her are getting along, and she quickly tells him who is the boss when he tries to steal her treat.
Here are few pictures and last one is her after today's water play.
Thanks
Selma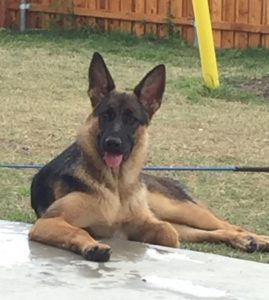 ________________________________________________________________
May 1, 2016-From Rowdy's owner  Dr.Jennifer Patton
I have been blessed to have this phenomenal dog on my life. He does everything I ask without question, though sometimes with that classic German Shepherd look of "Are you serious!?!" Today, thanks to a last minute judging change and pending AKC approval, Rowdy earned his PT title today, making him UKC Ch, UCDx, URO2 Tidmores Rising Star Idaho CGC, RE, BN, GN, GO, VER, UD, OA, OAJ, CA, PT and making him eligible for the GSDCA PAM!!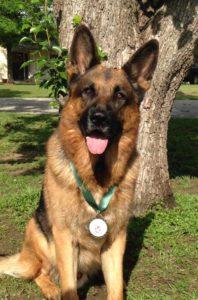 _________________________________________________________________
March 3, 2016
Thought you might enjoy seeing what a fine, wonderful dog he has become.  I would love it if people saw what wonderful fur children you raise there.  He is definitely my best friend.  I could fill a book for you, but suffice it to say, he has the best, most expressive face.  I wish you could see him sometimes.  He communicates volumes to me.  And he is just the best companion, walking buddy, protector, playmate,  and loyal friend ever.  He makes me smile every single day.
Deborah K. Keith
______________________________________________________________
February 27, 2016
Hi Cynthia,
Attached are a few photos of Willow schmoozing with some nursing students at Jim Thorpe. You can use these since there are no patients in the photos.
Willow is a very goofy girl. Vocal, animated and engages beautifully with patients. She is not all tongue like Zephyr, which is good,  but she will kiss on command. At home, she is a challenge. She has a lot of bad habits that are tied to her personality so not much I can do about them. She still eats poop. Any poop. Her own, Zephyr's, coyotes, rabbits… anything. Sometimes she eats things that really screws up her gut for a few days. She chews on wood and I worry about the splinters. It's a matter of time before she gets into something fatal. She digs. A lot. But I think I was just spoiled by Zephyr who has never dug a hole in the yard unless I asked her to. Willow will still kill a chicken if she can.  She is very good about leaving our stuff alone. She is never destructive. She is an outstanding guard dog. Lightning fast and she is not afraid to use her teeth. She is not stupid about it though. I have to be a little careful with this, but I consider it a positive thing for us living in the country. Funny thing is that when she has her working vest on, her personality changes and she loves everyone. This is one SMART cookie!
Zephyr is doing great after her hip replacement. She plays like a puppy again. Her fur is growing back with the undercoat first, so she has a very cute, fuzzy hip!!!  Zephyr is the sunshine of my life. I don't think I could love her any more than I do!!! She has resumed working at Jim Thorpe and also with home health visits. We were all happy to have her back, including Zephyr! A GSD must work to be happy. I learned that long ago.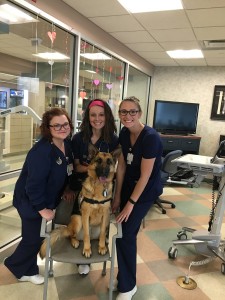 _________________________________________________________________
January 30,2016
Hi Cynthia,
Lexi is doing great! She is losing baby teeth (Toothfairy brings yummy treats) and is growing into a beautiful lady.
Have a great weekend!
Selma
_________________________________________________________________
January 21, 2016
We love Juno so much and she's absolutely the best dog a family could have.  Thanks again!  Hope all is well.