December 13, 2014
Here is a new picture of our baby girl on h r 1st birthday!!
Angel
_________________________________________________________________
October 17,2015
Just a friendly update 🙂  he's doing so well with our family. He's bonded and is such a fun guy to have around the house.
He finished his basic obedience class today and was selected as the top student in his class. He was the only one of 15 other dogs to be put on the "deans list".
Anytime we go out in public we are constantly stopped and complimented about how handsome and well behaved he is. People including our trainers are always very curious about who his breeder is. 🙂 lots of compliments coming your way. 🙂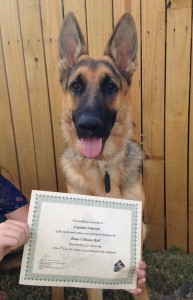 Cinder X Tank son Dec. 2014
_________________________________________________________________
September 21, 2015
Hey Cynthia,
I haven't sent pictures recently of Annie. Just wanted to let you know she is still doing great. Her limping was gone within a couple of days so we will just continue to watch her. That was the second time that has happened in the last 6 months. May just be growing pains like you mentioned. She's a great dog and we are so happy with our decision to make her part of our family. She has a major chewing issue. Mainly on our sprinkler heads in the backyard. Hoping she will grow out of that. However, she is wonderful with our kids and chasing bubbles with the kids is by far her favorite thing ever.
Hope all is well with you and your pups!
Jennifer
Honey X Tank daughter

2014
_________________________________________________________________
September 18, 2015
Hi, Cynthia!
Just wanted to let you know Freki has come into heat. She's doing great, though her appetite is a bit off. But other than that, just fine. Loves the cool mornings– when they happen, lol! She is so very athletic, chasing her ball and such. She can grab the (horse-sized) Jolly ball out of the air, spin on a dime and bring it back. Prancing, of course. Very proud of herself. She can also differentiate between the 4 balls in the yard and will get whichever one we ask for. Though occasionally she has a persistent favorite, then there is a bit of a power struggle, but she eventually caves and gets the right one. She is such a funny girl!
I don't remember if I told you we got her a backpack- well, she tries to bring it to me when she wants to go for an outing. It's hanging from a hook, so she hasn't figured it out yet, but she will stand on her rear legs and 'point' to it with her nose. She loves going to the park and knows the word 'Sonic'. I confess she gets a vanilla cone from time to time.
We adopted a GSD over the weekend (he's neutered–likely for several months to a year since the site is completely healed/furred– and paying very little/no attention to Freki being in heat, though I keep a close watch. No alone time for them until this is done). Freki pitched a fit at first, but very shortly decided he could stay. They run and romp and have a good time. She will share her toys, but she will also simply take one away from him whenever she decides she wants it. He is bigger than she is, but she still rules the roost.
Catie
Honey X Tank daughter 2014
_________________________________________________________________
August 7, 2015
Hi Cynthia, here's a picture of Reva and a new friend, a 3 1/2 month old Golden Doodle named Teddy. Reva and I visited with Teddy and his mom in Orange County, CA this week while the husbands are on a motor cycle trip. I'll forward more photos and a video.
Reva was adorable with the puppy. We took them to a coffee shop and sat outside. Reva got a lot of compliments. One guy asked where he could get a Shepherd like Reva. He was shocked when I told him Oklahoma.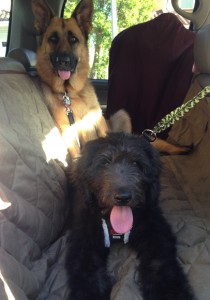 On vacation along the California coast.
Jazz & Esko daughter 2013
__________________________________________________________________
May 7, 2015
Hi Cynthia,
Just a quick update on Titus.  We are all so amazed by how smart he is!  He has learned "Bed," Sits!, "Ouss!" (let go), and he's doing better on a leash every time we go out.  And we're learning (at a slightly slower pace) that a tired puppy is a well-behaved puppy.  🙂  House breaking is still a work in progress, but he'll get it!  His appetite has definitely improved, by the way.   All in all, we couldn't be more pleased and delighted!
Gotta run!  Blessings,
Deanna  
__________________________________________________________________
May 5, 2015
Hi Cynthia,  
Sophia is doing great.  She has been to two puppy classes so far.  She is very excited to be around the other dogs but that's to be expected the other GSD's are the same way.  She knows sit and lay, we are still working on heel.  She does great with our 20 month old daughter, and is getting better about biting.  
Sophia has grown up so fast.  Her coat has changed and she's beautiful I love that all her markings are symmetrical.  She now weighs over 30 lbs and she's slowed down on her eating.  Thanks again for the great puppy.
____________________________________________________________________
May 5, 2015
Boaz is doing really well.  He's not nearly as mouthy as he was before, but he still occasionally nips when he's feeling a bit too playful.  Yesterday he was in his 2nd to last puppy kindergarten class, and is doing really well there also.  Last week they introduced an agility tunnel, and this week they introduced the agility chute.  Boaz was one of the best, if not the best dog in the class in regards to going through the tunnel and chute.  No hesitation at all, and on the 2nd time through the chute, I didn't even have to hold it open for him.  So it looks like he may be great for agility once he's old enough to do the jumps, which they told me would be around 18 months of age.
Also, we went to the lake recently, and he really loves the water!  Now he truly is a swimmer puppy!
Daniel & Elisabeth
Jazz X Rowdy boy Dec. 2014
__________________________________________________________________
 May 1, 2015
Inga continues to grow! Isn't she beautiful?
We started school this week and as I expected she already knew everything they taught the first day. Sit, lie down, settle, watch me, etc including hand signals. My brilliant girl!
But being around other pups was fun! I was thrilled that she calmed down and paid attention after play time.She is doing well on a leash, and we take long walks each day.
Each week I take her to visit one of my clients.
Her personality is wonderful, no fear or shyness. Everywhere I take her, people want to meet her, so she has learned that she has to sit for any attention.
All in all a wonderful girl!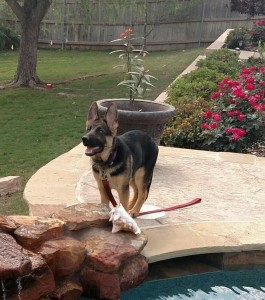 Cinder X Tank daughter Dec. 2014
__________________________________________________________________
April 22, 2015
Hi, Cynthia!
Just wanted to let you know our granddaughter (5 mo) was here today and loved Freki! Because Freki is so rambunctious, we'd had her stay outside, but let Skylar and her meet through the glass door. Freki wiggled and jumped and tried to lick her hands through the glass, and after a bit, Derek gave Freki a big bone to distract her, and we took the baby outside.
Of course, Freki ignored us for the bone, but soon couldn't resist and came up to check the baby out. She was very, very good and nosed her and licked her, but kept her feet on the ground. You could tell how thrilled she was to get to make contact. Skylar squealed and hooted and jumped up and down and patted Freki's face, and Freki loved it.  She even had that goofy look on her face that shows how much she wanted to be a part of it all.
Skylar's mom was excited about their introduction and videoed some of it, and my mother-in-law thought Freki was the best ever. Freki was pretty much the poster child for why GSDs and kids are a great mix. Can't wait to see them together again.
Catie
Honey X Tank daughter 2014
___
____________________________________________________________________________________________________________________________________
April 21, 2015
Hi, Cynthia, Thanks for checking in on Stella. She is doing well, and my kids are really enjoying having her. She finished four weeks of dog school and has two more to go (once a week). Next Monday she'll finish all the shots to get close contact to other dogs. We can't wait to take her to dog parks. Our vet suggest we don't take her until next Monday. She spend most of her day time in the back yard and inside the house at night. She has grown a lot (two pictures attached). Last vet visit on 4-6, she weighed 25LB.
Thanks, Grace & Frank
__________________________________________________________________
 April 1, 2015
Growing and learning isn't she gorgeous. I watched the monks of new skete (sp) video and I know that a huge part of who she is came from you! The early socialization and love…..her favorite toy is still an empty water bottle! She is just the greatest!  Thank YOU!   Cindy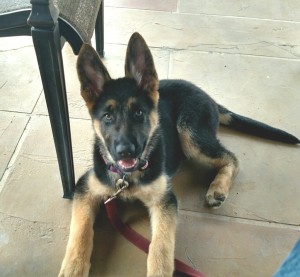 Cinder X Tank daughter born Dec. 2014
__________________________________________________________________
March 31, 2015
Hi!  Just wanted to let you know that Kai is doing great!  What a smart, loving girl. She has a great temperament and is basically unaffected with whatever situation she is put in. Our latest adventure was riding in an elevator! It didn't faze her at all.  She has experienced people in wheelchairs, people using walkers and babies in strollers and shopping carts. She is a very well rounded!!  Thank you so much for our girl. We love her and are enjoying her. I took this after she came home from day train. She's a little tired!  One of her friends is an amazing Great Dane that she just loves playing with.
Angel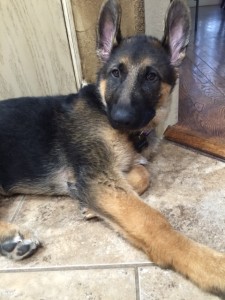 Jazz X Rowdy daughter born Dec. 2014
__________________________________________________________________
March 28, 2015
Boaz at 15 Weeks!  He is doing well, 36.5 lbs.  The biting seems to be decreasing.  He loves to ride in the car with us.  Puppy kindergarten starts on Monday.  He knows a lot of commands really well – sit, lay down, go potty, kennel, stay, blanket.  He does them very well when treats are involved, but when there aren't treats involved, he is a bit stubborn.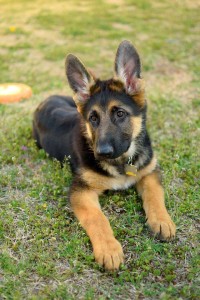 Jazz X Rowdy boy Dec. 2014
__________________________________________________________________
March 28, 2015
An update from Wednesday's post.
Freki is now fascinated with the cat. She has made a complete turnaround. She now follows him around, literally on his tail, and observes every tiny movement he makes. 
It is such a huge relief from the barking and threatening behavior, but poor Angus likely wasn't looking for a nanny or guardian, either!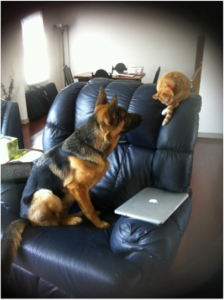 Honey X Tank daughter 2014
__________________________________________________________________
March 22, 2015
 Wanted to send you an update. Thor and Dawson are doing great together.  Doug & Karen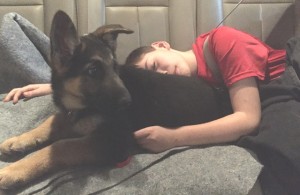 __________________________________________________________________
March 22, 2015
Hi Cynthia, I thought I give you an update on Sophia since she has been with us for two weeks now.  I think she is fitting in nicely and progressing along.  She definitely is growing, she was 13 lbs at her first Vet appointment, she is now up to 18lbs.  It is amazing to me how fast she grows.  Sophia is doing excellent with her crate.  She rarely whines when in it and only for a few seconds.  She has only gone #1 in it once.  We are very happy with her personality and temperament.  Being a large family (six people) there are always people over besides or six we have had 19 human visitors (one dog) in the past two weeks and nine have stayed overnight.  These visitors age from four to 66 years old.  Sophia has done great with all but one little girl who would get furious when Sophia would bite her pants legs.  I separated Sophia and we had no more issues.   Sophia is excellent with our month old daughter Emily who calls her "BAA".  Sophia is very gentle with Emily and seems to be extremely careful with her teeth on her.  She has accidentally knocked Emily down a couple of times but these instances are rare.  They spent at least three hours today together with me and Emily was only knocked over once.  We watch both closely when they are together.   I have worked with Sophia a little with treats.  I do a couple of minutes with the leash and found she does great with treats today she stayed with me keeping the leash loose and did not try to chew on it.  On the other hand I found she will not even try to fetch if she knows I am holding treats.  The only other time I use treats is occasionally in her crate and as much as I can when I take her out to potty.   Jessica bought some petsmart treats, but I have better luck with tiny pieces of sharp cheddar.  There are some areas we need to work on.  While Sophia has a soft mouth and does not bite hands or arms hard, she does get carried away on pants.  I think she thinks they are not body parts so she attacks everyone's legs.  Personally I tell her no and redirect her to a toy.  It is very painful when she gets a mouthful of the tendon on the back of my leg.  Also she still potty's in the house.  This morning she snuck past me for a couple of seconds while she was eating and went #2 in the kitchen.  We try to stop this by keeping track of her and keeping all doors to bedrooms closed.  We are looking forward to starting puppy training.  A lady at the vet's office does training so we would like to use her to save on driving to north OKC.  Thanks again for matching us with such a great puppy.  She does cute little things that make us laugh.  She sits on the wood floor and slides backwards.  One day I caught her sitting in Emily's little chair with her front paws on the table.  I am happy with her personality, she plays and plays hard but she also knows when to relax.  Benny I included pictures of  Sophia her first week with ears down, second week with one down one up, and this week with both up, and a picture of her sitting at the table.
Cinder X Tank daughter born Dec. 2014