December 12, 2014
Hi, Cynthia! I just saw your post on my website. Yes, it would be a sad tree if we put one up- and short-lived. But we will be moving sometime after next week, so it is just as well. Freki is a fun girl. Always trying new things. She has lost a few puppy teeth, and her adult ones look great.
We have been taking her riding in the car more lately. Just mixing up the errands so she gets to go on the 'run throughs'. She loves the bank- they give out cookies. Really big cookies. But she took exception to someone in the little truck next to us who was pointing at her and making eye contact. I told her to ignore them, and she grumbled a bit and glared at them, then settled down.
I sometimes hide cookies around the house and tell her to 'track' them down. It's great for giving her something to do while I am trying to get something done. Even if I am cooking, she is right there between me and the cabinet, checking things out. I think I have a permanent stoop from bending over her to reach the counter.
She has gotten too big and rowdy for Ben to enjoy playing with much, so she has toned it down a bit- sometimes. She was a whirlwind through the house for about 5 minutes this morning because he wouldn't play with her and she had to use up her energy. We have a soft-sided, collapsible crate we stash her toys in, and she raced through the house, leaped into the crate, slid it across the floor, rolled it, spun around, jumped out– repeat. Ben and I just sat on the couch and kept our feet of the floor.
Hope you have a Merry Christmas!
Catiea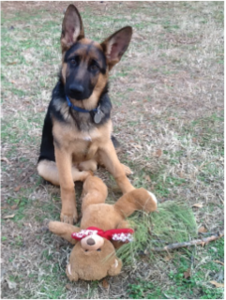 __________________________________________________________________
November 20, 2014
Hi, Cynthia,
Meant to tell you she finished her shots a couple of weeks ago, weighed 33 lbs. She is growing like a weed 🙂
She loves her Jolly ball and plays soccer with a basketball. Hoards her toys and tries to keep them in whatever pile she has chosen for the day- the hall rug, her pillow bed, the crate.  She will often use whatever toy is in her mouth to bat a ball around, so I suppose she plays golf, too.
I emptied their kiddie pool the other day, and it was not a popular decision. She is an insistent part of everything I do, and won't be excluded from anything. I will sometimes let the little dogs out by themselves to potty, and when I let Freki out, she puts her nose down and tracks their every step. She has also learned to catch treats.
I let her ride with me the other day on an errand, then to Sonic for a treat. She loved it, of course. The next day, I had another drive-around errand and let her go again. She sat up in the front seat, looking around, glancing at me, then back out the window. I finally told her we don't always go to Sonic. She stared at me for a long moment, then got in the back seat, laid down and ignored me. What a funny girl!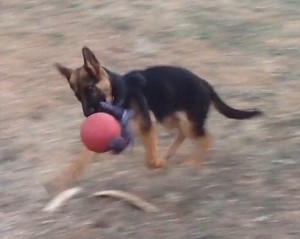 __________________________________________________________________
November 13, 2014
Hi Cynthia!
Hope your doing well! Just wanted to update on archer a little! We had our last set of shots and he's doubled his weight (now 42 lbs) in a month! He loves riding in the car and going on walks! He is a very smart boy! He even learned how to turn the water on in the backyard (see picture). He finished his first obedience classes and we are continuing to work with him at home for now! He had his first trip to Petsmart and did great! He loves meeting new people. He is such a great dog and we are enjoying him so much!
Megan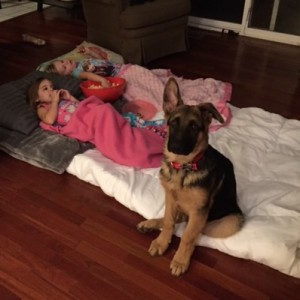 __________________________________________________________________
November 6, 2014
Hey Cynthia,
Here are a few pictures that we took of Annie last weekend. She's doing great, such a sweetheart! Had our daughters 1st birthday last weekend and she had a blast chasing and playing with the kids in our backyard. She's perfect and beautiful!
__________________________________________________________________
October 20, 2014
Hi Cynthia,
How have you been?! I've been meaning to touch base with you; Luna and I are absolutely great! She has such a hilarious personality which sometimes get her into trouble, but not too often. 
She just got out of her fear stage, which wasn't so bad as far as objects she didn't know but she was absolutely terrified of other dogs no matter what their size; but now she's over friendly with them.
She's been going to a puppy socialization class on Saturday mornings and we will begin our puppy class starting on the 1st of next month. I'm hoping to get her Canine Good Citizen certification once I complete both the puppy and the good manners classes.
She is growing like a weed and her red is starting to come out on her shoulders and her face is also lightening up. I've been getting a LOT of compliments about her which I think is all due to your excellent breeding.
I hear that you have another litter on the way, congratulations! Some people are about to get very lucky =).
Sorry for not keeping in touch as often, I'll try to be more proactive with it =). 
Sincerely, 
Bob
__________________________________________________________________
October 9, 2014
Hi Cynthia,
Zephyr and Willow are both doing really well and enjoying the cooler days. I would like to share another happy moment in the dogs' life. Zephyr was the first to work with the young lady in the photos. I will call her Megan. Megan suffered a severe spinal cord injury in a car accident. When we worked with her the first time, she could not stand and had little control of her lower body. Zephyr worked with the therapists to help Megan with balance exercises in the gym. Megan really enjoyed working with Zephyr and Zephyr seemed to take an especially "gentle" and protective approach with Megan. The next week, I brought Willow to visit Megan. She had progressed a lot in the previous week. Megan has an incredible work ethic. She was standing with a walker, and had taken just a few steps. (I found this out later) Then along comes little Willow. Willow was very engaging and affectionate with Megan, being her usual goofy, lovable self. We played for awhile and then the therapist asked Megan to stand and take a few steps with her walker. I asked her if she would like to take Willow for a walk. Yes, she very much would like that. So I hooked up Willow's leash and handed it to Megan so she could hold it and her walker at the same time (SOP for walking with a walker) and off we went with her therapist behind but not assisting in any way. That's where things got strange. The staff, therapists, nurses and a doctor who just happened to be there stopped what they were doing and just watched us. I didn't really know why, I just focused on Megan and Willow. I asked Megan if she would like to walk to the end of the hall and look out the window so I could show her what Willow and Zephyr ride in. She did, so we pressed on down the hallway with Megan walking slowly but quite normally. We stood at the window and I asked Megan to guess which vehicle was Zephyr and Willow's. We laughed when she sure enough picked the Jeep!!! We then turned around and walked back down the hall. Megan kept saying, "I can't believe I am doing this!" We had a small audience of awe struck staff as we returned. It turns out this was the first time Megan had taken more than just a couple steps. And to take such a long walk placing one foot in front of the other in a perfectly normal manner was quite stunning to all who saw it! Willow took it all in stride. She has learned to walk slowly and watch the front wheel of the walker to gauge her position and she does that very effectively and with exceptional focus. After we sat down, Megan enthusiastically said, "I want to do it again!!!" I told her she better rest awhile and not get too worn out all at once! We all laughed. The photo was taken by Megan's aunt right after she sat back down from her walk.
The staff later briefed me on how miraculous this walk was after weeks of intensive therapy. I just feel so privileged to be a part of such momentous moments in a patient's recovery. And knowing that the near magical skills of Zephyr and Willow make it happen.
Zephyr is now registered as an AKC Distinguished Therapy Dog. This is AKC's highest therapy dog title. Willow just turned 2 and is quickly accumulating hours of service and a resume of exploits! I will title her soon.  
I hope all is still going well with you. I keep up with your dogs on their website! The last litter looked really nice. I can't wait to see how they develop.
Stay safe and healthy.
Carol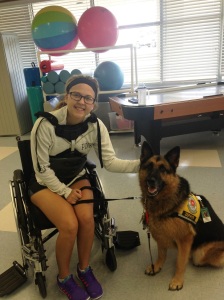 <Zephyr: Beauty X Cody daughter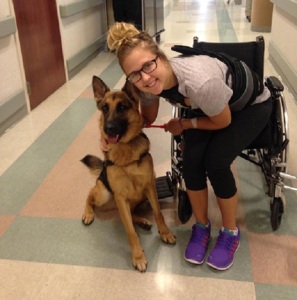 < Willow: Cinder X Esko daughter
__________________________________________________________________
October 4, 2014
We've made it to 8 months, and she's finally settling into a routine. She is a complete joy, growing so fast, and we love our girl Paladyn!
CINDER x BREGO daughter- Feb. 2014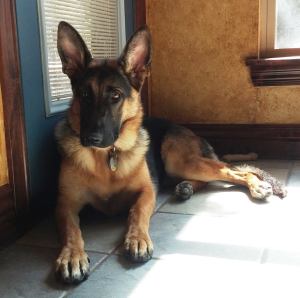 __________________________________________________________________
September 26, 2014
Hi Cynthia!
Just wanted to give you a little update on Archer! We started obedience training two weeks ago and are learning fun stuff every week. He is much better at night and we moved him into a big crate. He is such a smart guy! He is getting very big very fast! Also much braver now. I took him to play Auggie and now he is not afraid to wrestle around and play with her! They have a blast together!!
Auggie, Jazz X Esko daughter  2013   Archer, Tank X Honey son  2014
__________________________________________________________________
September 12, 2014
Just wanted to update you on Archer!
He is doing well sleeping more at night which is nice! He always wants to get up at 7 and play. Here is a picture of him. His ears popped up which I think is absolutely adorable! Thank you for such a great dog!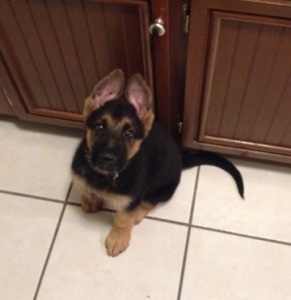 HONEY X TANK SON 2014
__________________________________________________________________
September 6, 2014
Cynthia,
It's been over three years and Bill is amazing! We've moved yet again, this time to downtown Chicago. In 2011, if I would've known how much I was going to move, I never would have gotten a dog. But looking back, I can't imagine going through any move without Bill. He's the most confident and comfortable dog I've ever known.
It's definitely different in Chicago, and while I don't have a big back yard for Bill anymore, I have two dog parks within a block and take him to Lake Michigan every weekend where he plays and occasionally goes for a brief swim (don't tell the city of Chicago).
We had our regular vet visit last week, and Bill passed with flying colors. Our new vet here gives a report card on things like teeth, ears, skin, weight/muscle structure, eyes, and then an overall general health grade all on a scale of 1-50. Bill got a 50 for weight/structure (one of only two dogs the vet has given that grade to this year) and another 50 for overall health (one of three dogs to get that grade from him this year). He wasn't below 47 in any category.
I wish I could take credit, but all I do is feed him, play with him, walk him, play fetch and other games, etc.
He's just so perfect. Thank you!
Jake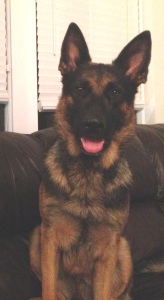 Cinder X Creed Son 2011  __________________________________________________________________
September 6, 2014
Ya you have a Facebook page 🙂 don't know if you remember me but I got my puppy from you in 2008 for the beauty breeding 🙂 I always recommend you to anyone looking for a German shepherd 🙂 I always get people saying I love your shepherd she is beautiful 🙂 Can't believe mine will be 6 in November ! Here is faith 🙂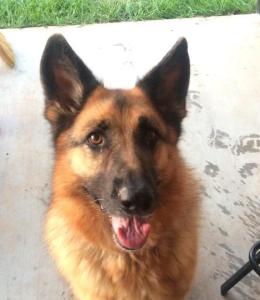 Beauty X E.T daughter 2008
__________________________________________________________________
September 3, 2014
 does this boy EAT!!!!!!!! He's about 85 pounds now and still slim…..like very slim.  I'm trying to feed him more now because he seems to just be growing so fast and is still so skinny.  What a great boy he is.  My best friend.
Boy, if I were you, I would repeat the pairing. He really is gorgeous and, of course, nowhere near grown up yet.  He's still gangly, but he's gorgeous and he is a very sensitive, sweet boy.  And did I mention smart?  Geez.  I have a hard time keeping up with him, but I love trying.
Deborah Keith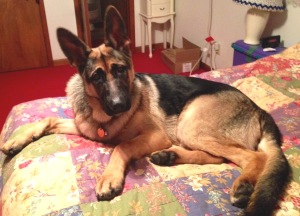 __________________________________________________________________
August 23, 2014–
Hi Cynthia,
The first two pictures of Seger were taken today.
The 3rd pic was taken about a month ago….he was playing with a neighbor dog.  The 4th pic is Seger and Utah taken today along with the 5th of Utah.  My babies!
I would've taken  more but Seger was getting hot and wanted to go inside~
He's pretty spoiled.
Gary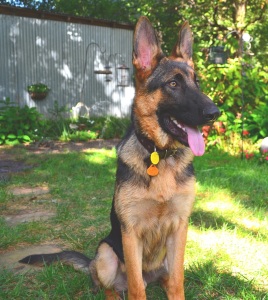 CINDER x BREGO SON 2014
__________________________________________________________________
August 8, 2014
Hi Cynthia,
I just wanted to let you know that as of July 2, 2014 Zephyr is now officially titled with the AKC as a Therapy Dog Distinguished. This is the highest level of therapy dog recognized by AKC. She has well over 1000 hours of community service.
The new therapy dog title from AKC is an actual title, so I am thinking that this can only add further status to your already fantastic line!!! Zephyr continues to work at Jim Thorpe Rehab Hospital. I can't tell you how much the staff loves and respects her. It is so gratifying.
Her health remains good, thank God, and her temperament is flawless. She is just so gentle and loving. It's uncanny how she knows what a patient needs before I do.   Maybe I am just biased, but I also think she is the most beautiful GSD I have ever seen!
Willow also continues working at Jim Thorpe. It is fun having two girls who are so totally different. What she lacks in patient perception she makes up for in energy and goofiness. She is great in our speech therapy program because of her enthusiasm and precise performance of verbal commands. While Zephyr rarely takes her eyes off of me while we are working, always looking for direction, Willow consistently makes good eye contact with patients and interacts with them without direction. I have to keep an eye on her, though because she is like a little butterfly flitting around pollinating. If I turn my back, she might just flutter right into a room uninvited to visit a patient. (This is only a problem if she flutters into an isolation room. Then I have to disinfect her and our day is done!!!!) Willow is not the beauty that Zephyr is. She is very small with a rather thin, but shiny, wirey coat compared to Zephyr's thick, fluffy, soft coat. Her eyes are more amber-brown rather than dark brown, which gives her a very intense look. Her athleticism is awe inspiring. She would probably do great in agility because she is lightening fast and incredibly agile. Her health remains somewhat fragile and she remains on pancreatic enzymes. I forgot to add them one night and she had a terrible time. I though I had killed her and spent the whole night up with her trying to get her fully recovered. I'm a bad momma. Willow is also a really smart girl. She is ferociously aggressive at the front gate at home. Very scary.  No one would believe how sweet and gentle she becomes to EVERYONE when she has her TD vest on. Willow is rapidly accumulating AKC therapy dog hours now. I am confident she will also attain the highest title with time.
I hope all remains well with you. Tank and Honey's puppies look great. I wish there were room in my life for another, but alas, two is all I can do at a time.
Carol 
___________________________________________________________________
July 29, 2014
Hello Cynthia
I've been wanting to email you with pictures but I just hadn't found the time. One word to describe Dexter would be LOVEABLE!! He is just so sweet & nice! He is amazing with kids, adults & dogs. Yes dogs! 🙂 he has no issues so far. We've gone a couple a times to the park where Ive meet other dog owners that had well behaved dogs & they have played off leash very well. I have not seen any signs of aggression whatsoever of any kind.
His appetite is there but he is a very picky eater. He does not enjoy his food very much. I've done all kind of things to his food to make it interesting but nothing really seems to stick. I even took him to the vet once just to check him up but the dr said that was just him & that he is just testing me to see what else new he could get. He also said his weight was good.
Other than that he is very fun Cynthia. I truly am enjoying having him. I love walking him & I can't wait to exercise with him. I'm planning on taking him on a small nature/hiking place here close to the city in the fall. He is great in public. His looks just blow me away sometimes lol he looks beautiful but commands everyone's attention when he walks in a room lol. I look at his fathers pictures once in a while & I don't know if it's just me but he looks a lot like him.
Cinder X Brego son 2014
___________________________________________________________________
July 29, 2014
Juno is awesome!! She's definitely stole all our hearts.
She has her practice test in a couple weeks for her CGC. She's doing great with training and I'm having fun going to classes with her.  
I see you have your hands full with more babies!!  
Hope all is well and thanks for checking on Juno.
Cinder X Brego daughter 2014
___________________________________________________________________
July 24, 2014
I know I keep sending these things to you, but he is one really special boy and I just want you to know what special pups you are breeding.
In training, he has mastered so many things, it is hard to keep him engaged, so now, we are learning to crawl and go under and around.  I don't know that we'd ever do agility seriously, but I am going to do it with him for fun at home.  He just learns so fast, it's hard for me to keep up.  And again, I have to tell you, this boy LOVES the water.  He puts his whole head under water, lays down in the kiddie pool and drinks with both paws in the water bowl.  Oh, and the bathtub…..gee whiz.  When I can't find him in the house, he's up laying in the bathtub hoping I'all turn on the water, I guess.  What a hoot he is.  I took this picture two weeks ago…..Did I mention that he is just gorgeous?
Deborah K. Keith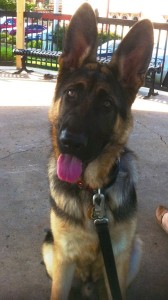 CINDER x BREGO SON 2014
___________________________________________________________________
July 22, 2014
Paladyn did it! With the help of a great class (Here's to you, Mallori at K9 University, and David willing to put up with my, "Firm up your tone; let her know you mean what you say, ONLY GIVE THE COMMAND ONCE-not three hundred times!-Praise her, Wait; don't you dare kick her!, Watch her body language, blah, blah, blah) and me nagging at him for 6 weeks so that we could have a well-mannered puppy, we all left Monday night with our Basic Obedience Certificate! What an accomplishment. She surprised David to no end. I think he thinks I sit around eating bon bons with my Shepherds all day…. NO! We work out! When she kept her sit/stay until he'd reached the end of that fifty foot lead, and THEN had a beautiful recall, I loved seeing this proud Daddy with tears in his eyes!
CINDER x BREGO DAUGHTER 2014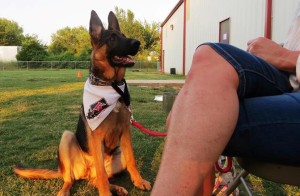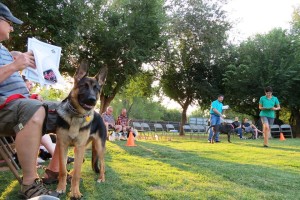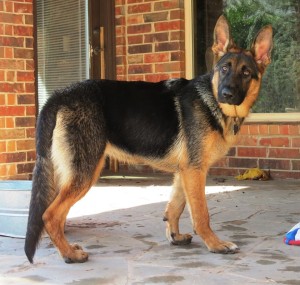 ___________________________________________________________________
July 21, 2014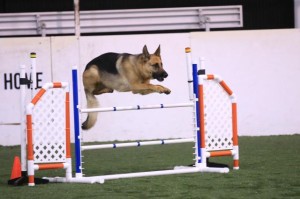 May earned her AKC NA last weekend in Springfield , MO. We also finally got our first jumpers leg. Still need 2 more for the NAJ title. Jumpers has always been a problem for me as I am not very fast myself.
I was hoping to add a brag about a UKC Agility 2 title but we only got 2 legs this weekend. Need 1 more yet. COurses were very tough and tight and she dropped a bar in 2 of her runs as I was out of position and cut into her path. I won't go any higher in UKC as the courses are just too tight for a large dog. I will finish this title eventually, might be a while tho.
So we trial in AKC again Labor Day weekend and have moved up to Open Standard.
A few pictures.
BEAUTY x ARTHOS DAUGHTER 2012
___________________________________________________________________
July 3, 2014
Here is Laddie last night – looking half like an adult, but not quite yet.  He is just wonderful – my best pal.
Boy, though, does HE LOVE WATER!!!  He loves the kiddie pool, the water bucket, the bathtub, ANYTHING with water in it.  Totally unafraid to get his head wet or go underwater to get something.  
 He really is a stunning fellow.  The sheriff's deputies who see him in the park always want to look him over, pet him, ask where he came from, etc. 
Deborah Keith
CINDER x BREGO SON 2014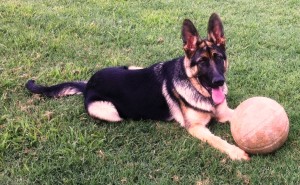 ---
June 15, 2014
Hi Cynthia,
Sending some Father's Day pictures I took of my boy Seger today.
Sure do love my boy!.
Gary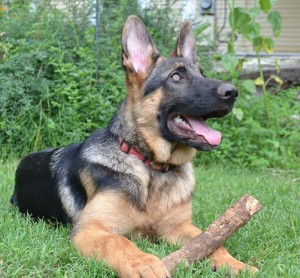 CINDER x BREGO SON 2014 
---
May 29, 2014
Just wanted to send you a pic once his ears came up for good.   Lad is wonderful, smart, and a sweet boy.  We have started one-on-one training sessions and he is doing great.  Our only problem doing this in the park is that people constantly want to come over and fawn over him.  He really is a wonderful little fellow. I must tell you, I have never had a dog that loves water like he does.  He loves the pool (kiddie wading pool), the bathtub, the water hose, the water bowl, ANYTHING with water in it.  And to follow that thought, the picture I have attached shows him all wet.  He just got out of the pool.  Thanks for taking care in raising good, healthy dogs.  It means a lot.
Hope you and yours are well!
Deborah K. Keith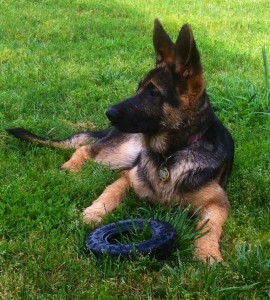 Cinder X Brego son 2014
---
May 25, 2014 
Hi Cynthia,
Gary and Robin here…..Seger had his last round of puppy shots last weekend – no health issues.
He weighed in at 31 lbs. Got him on heart worm meds.  Also would like to tell you that he is getting better at down command and stay.
Recalls perfectly – every time!  He is just about house broken.  He's a great puppy.
We took these pictures today of Seger and Maddie and wanted to share them with you.  Maddie is beautiful Cynthia!  We're sooo proud of them.
Hope you're having a nice holiday weekend,
Robin and Gary
Maddie a Cinder X Esko daughter 2012 and Seger a Cinder X Brego son 2014
---
March 16, 2014
Thought I'd send a recent photo of Reva.  She's looks more beautiful every day!  Check out those ears!
Mike and I think she's going to turn out to the best dog we've ever had.  We don't want to diminish the wonderful dogs we've had in the past, especially our most recent dear Dieter, but this little love dog is amazing with other people and with dogs, regardless the size or breed. She's friendly and loving with all of our family and friends, and always wants to meet people that we encounter on our walks or at the dog park.  It's interesting how she seems to know when someone should be left alone though.  On one of our walks she and I came upon an older man who was walking slowly and using a cane in each hand.  Normally Reva would want to speed up and meet the person. This time she watched him but didn't try to speed up to get close. As we got even with him, Reva looked at him but didn't try to approach. She's the same way with other dogs. At dog parks, she's cautious when she approaches other dogs until she's sure they will be friendly. One day as soon as she got into the park she ran across the field to where a dog was that wasn't watching her approach.  Mike and I were afraid she would startle the dog and it wouldn't be a good situation. When Reva got close to the dog she stopped and turned to put her rear closest to the dog, and waited until he checked her out.  Interesting huh?  Yesterday we were at the dog park with my dad's 8 year old Lab, Maggie, who has diabetes and has recently gone blind.  Maggie was having fun but it was apparent that she had some anxiety.  Reva seemed to sense that and was very gentle with her.
We love our little girl! Or, as Mike often calls her – our little doll.
We hope all is going well with your new liter and all of your dogs.  
Liz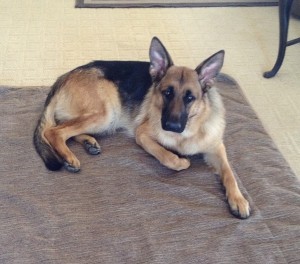 JAZZ x ESKO DAUGHTER 2013 
---
March 18, 2014
Mayhem (Tidmores Rising Star Lydia) earned her first UKC (United Kennel
Club) agility title this past weekend. Little May qualified on all four of her runs with very fast times. On Saturday we placed first and second. On Sunday her handler had a few errors and knocked us out of the ribbons but we still ran well and qualified. This little girl is fast! We had lots of compliments on our runs and how focused May was.  A few people wanted to know where this fun girl came from and I was proud to say Tidmores Rising Star. Even the judges came by to compliment us. Mayhem knows her job out there.  This weekend we go to our second AKC (American Kennel Club) agility trial and hope to come home with a few more Q's!
Submitted to me by: Kathy Woodbury
---
February 4, 2014
Hi Cynthia
Thought you might want you might like to see this pic of Levi.  He looks so handsome.  He and Honey had a great time playing in the snow today.  Glad they enjoyed it as I have personally seen enough of this white stuff.  Hope you and yours are doing well.
Sonya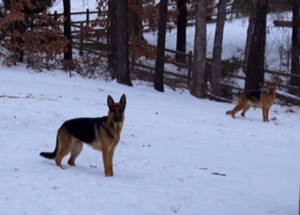 Cinder X Esko son 2012
---
February 3, 2014
Dear Cynthia: 
It is with great sadness to inform you that our beloved Fritz passed away this afternoon.  He has been struggling with old age issues for the past year and the last few months have taken their toll on him.  The vet put him down peacefully this afternoon.  We are so sad to have lost him, but so thankful that we had such a loving, loyal friend, companion and protector for the past
13 years.  We thought you would like to know. 
Thank you so much for breeding such a wonderful member of our family.
Sincerely,
Dena & Bill Alexander
Scarlet X Rhett son born in 2001
---
January 3, 2014
Hi Cynthia!
I just got off the phone with Terri Smith. I am thrilled that she is committing a deposit on one of Cinder's puppies. I just hope there will be a little female for her. Terri fell in love with Zephyr and then also with Willow and I believe she has known for awhile that a pup in this line is what she needs. We will be training this girl for therapy work, but also to eventually become a service dog for Terri. I am praying that the pup will have the temperament for this kind of work. I certainly like the pedigree!
Zephyr continues to
do great. She shows no sign of any arthritis or hip or elbow problems and runs,
jumps and plays wildly with Willow. 
Willow is fully engaged as a physical and speech therapy assistant at Jim Thorpe and excels at stroke rehabilitation therapy. While Zephyr is very serious and calm, Willow is just a funny little girl who entertains and makes people laugh. She can turn her goofiness on and off as needed. Attached is a recent photo I thought you might enjoy. Willow is very good at walking in a slow, controlled way with patients. She also knows how to "shout" and "whisper" (although her default mode is "shout"!) which always brings laughs. She has a very endearing way of touching peoples' hearts with her eye contact and gentle nature. Those beautiful, intense, amber eyes!
 TIDMORES RISING STAR MYSTIC WILLOW
CINDER x ESKO daughter Aug. 2012