December 28, 2011 –  Tidmores Rising Star Jake, aka Bill –       
Cynthia,
I'm sorry I've been so late in sending pictures to you, but here are a couple of the big guy at my office.  Hope all the other puppies  are as handsome!
Thanks,
Jake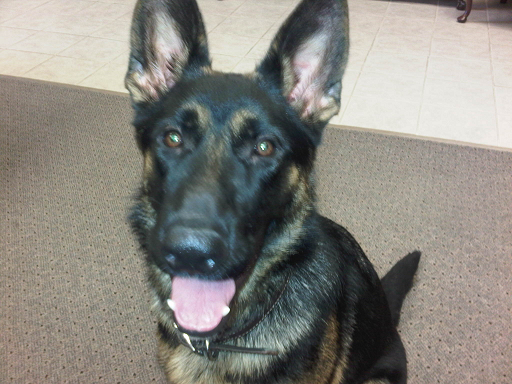 ---
December 16, 2011

–      Tidmores Rising Star Jordan,

aka Koda

– letter from his owner.

     
 Hi Cynthia! I found a few minutes to sit down, so I thought I'd send  you a quick note to let you know that Koda is doing great! I don't think  I'll ever get over how smart he is. What I wanted to tell you about, though, is something funny the girls have been doing with him. They will hook two leashes to his collar  and take turns running him around the house in a big circle, pretending he is a reindeer! I keep wondering when he's going to go hide, and refuse to play with them, but he seems to like it. He sits so still for them when they put the leashes on.Anyway, I thought you might get a laugh out of that one. It's even funnier to watch!Hope you have a very merry Christmas!
CINDER X CREED SON 2011
---
November 19, 2011 –   Tidmores Rising Star Indy aka (Harley) new pictures today.      
Cynthia,                   
Sorry that it has been so long since we have talked. For some reason I have difficulty contacting you from our home computer, so I am sending this to you from work. Harley is incredible!! She is simply BEAUTIFUL and we get so many compliments on her. She is SO protective of the family, and an      absolute joy to have in our lives! More pictures soon!!                   
Dave and Nikki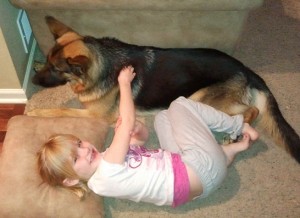 ---
October 26, 2011 –  Tidmores Rising Star Idaho BN, RN aka Rowdy      
Here is a pic of Jenn with Rowdy. He took fourth  place (99/100) at the German Shepherd Nationals in Topeka, in September.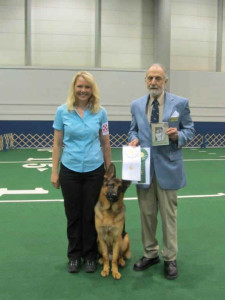 ---
October 26, 2011 –       
Cynthia,
I still owe you pictures that I need to pull off my  camera, but I haven't forgotten.  It's very tough to take in the  full "Bill" with a picture, because his head is so  small yet he's so big and athletic.  He's still very slim in  stature, and despite his 68 lbs., I'd guess him at 40.  However,  I've changed our playing because he's already so fast and so athletic.   I might be a lot bigger, but he's way faster and deceptively strong.  I sure wouldn't want to be an intruder!
He's definitely still a puppy, and I'm still treating  him like one.  But he's coming along so nicely and learns so quickly that I have to constantly remind myself not to get too far ahead.  He's calming down ever so slightly after our walks, runs and exercise, and he's looking more and more like Creed every day.
Pictures are coming your way, but I didn't want to miss a chance to let you know how much I love this dog!
Jake
---
October 20, 2011 – New picture of Tidmores Rising Star Hank,  aka Renno and Tidmores Rising Star Gisele aka Saphira from their owner Sharon of El Paso Texas.
---
October 20, 2011 –       
Hi Cynthia!
We were wondering whether you knew whether Beauty is pregnant yet, and thought I would drop you a quick e-mail.
Zephyr and I are going back to Jim Thorpe again today (we go every Thursday). Last week, Zephyr helped a young woman who had paralysis on  her right side to move her arm for the first time. It was another        amazing moment. We will be working with this girl again today. Zephyr is such a blessing to so many. Whenever someone asks where I got her, I  give them the long discussion about the challenges of breeding healthy German Shepherd Dogs of sound temperament. Then I give them your card. I  hope it pays off for you. There are way too many back yard breeders that are creating serious genetic deficiencies in the breed. I want to get the word out about this and encourage people interested in bringing a  GSD into their lives to seek you out.
Hope to hear from you soon!
Carol
---
October 12, 2011
Cynthia,
It's been a while since I gave you an update and  I'll send a much more detailed email soon with pictures.
But I did want to make sure that you know Bill is  exactly as hard-headed as you imagined and exactly as smart as you had hoped.  He's now 63 pounds but still acts and looks like the  puppy he is.  I'm not sure how big he's going to be, but he's  very lean, his legs still have knots in them and his head it still tiny.  But his ears, paws and bark are huge!
He's just incredible and I still couldn't be happier.  And if you asked Bill, I'm sure he'd say the 2 hours of  walks/outside play and 3 hours of inside fetch and learning isn't  enough, and also say that he's loving live (especially now that he figured out belly rubs aren't meant to hold him down).
Thank you so much, again, for all your hard work and skill in creating such unique and awesome dogs.  I'll send along pictures (he still looks like a small puppy until you put him on a scale) and a more formal update soon.  But I didn't want to miss a chance to say "thanks"!
Jake
Cinder X Creed son 2011
---
October 6, 2011 – Tidmores Rising Star Hugo – New picture from his owner Chanda.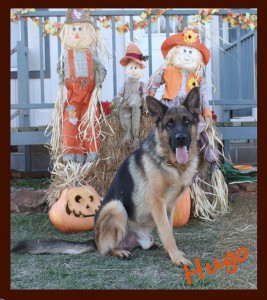 ---
October 4, 2011 –   Thank you Cynthia, you bred a beautiful and sweet spirited dog. Tom loves her deep throated bark and always says "Doesn't our girl sound mean?"
---
September 18, 2011 –      TIDMORES RISING STAR FALCON – New picture from his owner on Falcon's 3rd      birthday.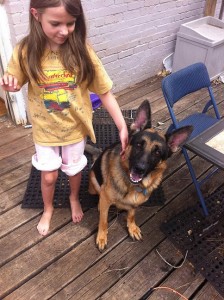 ---
Hi Cynthia, I just took this pic of Roman today.  Isn't he  gorgeous!?  I can't believe he's 4 1/2 already. 9/13/2011
Sept. 11, 2011 –        
That's so funny you emailed me, because I was thinking the past  couple of days that I need to email you!  Roman and I are back in Dallas and he's great.  He's 100# at his last weighing and is very  healthy.  He's a beautiful adult dog with an amazing disposition.    My current roommate has three kids and he's wonderful with them. 
Thank you for breeding such a perfect dog.  I love him as  always.
---
Sept. 3, 2011 –       
Cynthia,
Sharing a "Happy Birthday" pic  of Nova  with you. She is doing well, still working on a few things in training  with her, but over all SHE IS WONDERFUL and making much progress!                 
Hope you are well! Think of you often!
Melinda Lauer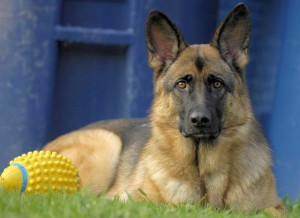 ---
August 29, 2011 –       
Cynthia:
Just to give you a quick update. Rowdy is now  Tidmores Rising Star Idaho RN, BN. He received two titles this weekend in our last outing prior to nationals. He finished his RN with 2 firsts and a third  (my fault) and his BN with 2 firsts and a second. His last run was 198.5. Hopefully that is insight to how he will do in the future. We need to work on left turns and fronts for the next couple of weeks, so hopefully we can get that polished up for nationals. Otherwise, his heeling looks great. He was a hit in Topeka. Everyone was impressed with how cool he was in the new surroundings.  It was all fun and games for him.  They also love his strong color and male      head. A lady, I would guess in her 80s was there, and she had shown GSD for decades. She was so impressed, she wanted to know why I didn't have him in the conformation ring. When I explained that he wasn't severe enough in his rear angulations, she said he should be in the ring to show the judges what a real GSD looks like, not the mess the breed currently looks like. She loves his movement, bone structure and head. In general, he has made a big impression everywhere he has gone. He hasn't  met a stranger, even with strange kids running up to him and hugging and petting on him. And, I got the OFA prelim back. Good hips and normal elbows.
Next step is Nationals. Wish us luck.
Jenn and Rowdy
Beauty X Dryker son 2010
---
August 17, 2011 –       
Cynthia,
I hate to bother you even more and rave about Bill, but I can't help  myself. 
I still could not be happier with him.  He's growing like crazy  (he was 45 pounds 2 weeks ago, and I know he's grown since then) and while he's still very dark, the tan is slowly spreading over his legs,  on his belly, behind his ears and a little on his face. I get  compliments everywhere I go about how good looking he is and, occasionally, his temperament.
We've started our formal training and, at this point, it's all stuff  he's learned already.  But being there among other dogs, owners and in a new situation has been invaluable.  I do want to stress that  everything we've learned has been at Bill's discretion.  He'll run  out to the middle of the lawn and sit and I'll do my best to teach him a concept.  But he's never corrected with more than a "no"  when he breaks "stay" or "heel" and I make sure to allow him plenty of "puppy time".  Well, actually, all of  his time is "puppy time".  As we continue to learn, even the easy things like "sit" are hard when he's excited or  distracted.  So I remind myself that he's still a pup and just  exercise him as much as possible.  
I want to compliment you again for the fantastic job you did.  Bill is still a pup and just beginning his life, but PLEASE put me at  the top of your list if anyone ever wants any references on your dogs.   Because Bill is better than I could have ever dreamed.
Hope all is well with your family and, again, thank you.
Jake
Cinder X Creed son 2011
---
August 14, 2011 –       
My handsome boy, Koda, 4 months, 9 days old- Staci.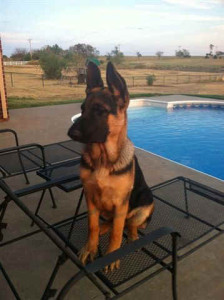 ---
July 8, 2011 –
Hi Cynthia!
We took Koda to see Dr. Tyler yesterday, and all is well. We got a  weight of 30 pounds for him, but I'm not sure how accurate that is. He  wasn't interested in sitting still at the time. LOL!I took this video of him this morning. Every morning, I take Karma for a long walk with me. When I return, Koda knows it's his turn. He knows that he has to have his leash on before we go, and that I will not put it      on until he sits down and stays still.  As soon as he hears it click, though, he's off! The sitting still part is so hard right now, since he's still a puppy, but he knows the routine. When we get back from our walk (to the stop sign and back), he knows that he gets to pick up the  newspaper, and take it inside. He's always so proud of himself! He continues to amaze us daily! Enjoy!Staci      
Cinder X Creed son 2011
---
June 20, 2011 –      
Hi Cynthia,      
Nice to hear from you! Yes, we are doing well now. Beginning of this year, I took Sieben to Austin Canine Central for 2 month training.  He was welcome in the class and got his Good Canine Citizen certificate. Sieben is really a sweet dog yet very protective. He has all the qualities that I had hoped a GSD would be. If there is anything that he does not do well, that is my fault of not training him well. I love him dearly. We took Sieben and Imma together to visit his family during Christmas break and both of the dogs had a lot of fun in the snow there. I do not remember whether I sent you some photos of them playing in snow……. I am attaching some…
Are there any news of his siblings? I know the red, Hank/Renno is doing great with tracking.  Honey is with you. What about other siblings? Are they doing well? I  always remember the blue one – Hugo/ Spike – he was the smallest among the 5 boys. Has he grow to be a 80lbs boy?
Thanks,
Flora
---
 June 14, 2011 –     
Cynthia,
Just wanted to give you a brief update on Bill.
We're still doing very well.  He had his second round of shots today and, again, was the hit of the vet's office.   He has a great attitude when meeting people; both excited to see someone new but also ready to do his own thing.  Since he hasn't had all of   his shots yet, I'm being very protective of him, but I have introduced him to two older dogs who are vaccinated in a controlled environment and he, again, had a fantastic attitude.  He was a little curious, but also didn't want to get too close at first.  He went up and smelled one of the other dogs who was told to "sit" and let the bigger dog do the same to him for a few seconds before letting out a whimper.
We obviously haven't started any formal training and I  haven't been teaching him any real lessons, but he already sits on  command 9 times out of 10 (he gets a little distracted occasionally, and  I don't blame him).  He also has "come" down very well and we've just begun to learn "stay" and "heel".    It takes a little while for him to catch on since I'm only playing games with him to teach him, but there will be plenty of time for more disciplined learning later. 
He's such a great little pup and he gives me way more love than I deserve. 
I hope all of his litter mates are doing well.   I've attached a picture from today so you can see how much he's grown already.
Thanks so much,
Jake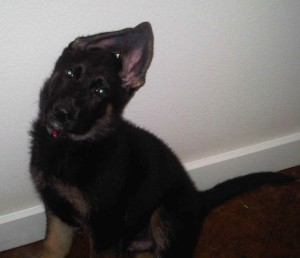 ---
May 12, 2011 –      
Hi Cynthia,                      
So glad to hear from you the other day and sorry it has taken me so long to get back.  We are doing great and hope you are also.  Samantha has  not become a star like I see her brother on the commercial has, but she is still our wonderful companion.  She loves to run with me and play soccer with Austin as I think I might have mentioned before.  We haven't taken her back to agility classes, but it is only because it is SO far away that  I just have not done it.  We love her to death though and as always,  her intelligence is amazing.  When we go outside, she still runs the      entire perimeter of the yard (sometimes twice) before she greets us.   It never gets tiring to watch!!!  My camera is taking blurry  pictures, but wanted to send you some to get an idea of her looks at 3 yrs  old.  I think she probably looks much like Cinder.  She does have a near obsession with the water hose.  When we use it at all,  she wants to chase and bite the water!!  It is her all time favorite game.  Sometimes she will pull the hose out to the front door and then bark for us to come out and squirt her with it.  I fill her pool up and have to pen her up or she will drag the water hose out and bring it to me.  One time she wanted her water changed from her little baby pool and she pulled the hose over to the pool and just sat there waiting on me to refill it.  I am thinking she is going to start speaking any day now. 
---
April 9, 2011
Cynthia: worked cows today and tried to take some shots of Boone.   Very hard to get him to sit still and pose as he has lot and lots of  energy and is constantly moving. He is so well behaved and always wants        to be by my side. I will try to send some more up close pictures soon.   We will work our cows again in September so maybe I can get some better photos
Ryan
---
March 28, 2011 –        
Cynthia,              
Jersey is doing awesome!  She has continued with the training and is getting better the older she gets.  We had a small party at our home this past weekend and we were able to leave her out with all the people (kids and adults).  She knew about half the people there already, but she was completely calm.  She also has a "best friend", as my kids would call her.  Our next door neighbors got a chocolate lab this past fall.  The two dogs beg to play together and are very sweet.  I am also sending a picture of Jersey with a basketball.    It's her favorite toy.  We think it's pretty funny!  She is everything we wanted… a sweet family pet, but protective when people approach our fence or she feels threatened.  Thanks so much!        
Sarah Hull
Beauty X Dryker 2009
---
March 18, 2011
 Hi Cynthia,      
Zephyr continues her work at Jim Thorpe Rehabilitation Hospital where she has become loved and respected      for her ability to provide rehabilitation therapy for victims of traumatic brain injuries, spinal cord injuries, strokes, amputations, and more.   Zephyr's repertoire of activities continues to grow as we tailor therapies for specific patients. She is able to learn new activities so quickly,  often after being shown what we want only two or three times. Her  intelligence is astounding. Her latest activity is speech therapy. Yes, speech therapy! I hold up a "flash card" with one of Zephyr's many commands printed on it. The patient must then say the command loudly and clearly enough for Zephyr to understand and perform the command.   Zephyr will stare intently at the patient's face, cocking her head in an endearing manner in her attempt to hear and understand the command. Then, when she understands, Zephyr performs the action for the patient.  We often work in conjunction with the staff speech therapists and we have      breakthrough moments almost every week! Who can resist trying harder when that furry face and bright eyes are in front of you!?!  I have kept a journal of all her visits since day one. I don't ever want to forget the miracles we have seen. Zephyr can be quiet and subdued (during speech therapy) or boisterous & cheerful when chasing or bouncing balls. She can turn it on or off in an instant with nothing more than a hand signal. The only thing she obviously does not enjoy is pure comfort therapy, where she is expected to just sit still and be patted.  She endures this stoically, but if it goes on too long, she gives me a whine and a look that says, "Come on Mom, let's do something fun." She is definitely not a lap dog! Finally, her beauty… We hear it virtually every time we go out. She is magnificent. And people are amazed at how soft & shiny her coat is.  I have personally never felt a shepherd with such a soft coat. This really helps when working with      patients with limited ability to feel and touch.  I encourage them to touch and feel her velvet ears. This very action has brought smiles to stroke patients who had not yet smiled. I could go on and on… I only hope that others will pursue this endeavor with their Tidmore's GSD. Your efforts to produce GSD's with outstanding temperament have definitely paid off!  Attached is Zephyr's Christmas photo. Hospital privacy laws prevent me from sending photos of her at work, but hopefully in the near future, I can get some patient releases so I can send you a few. Best of      luck with Cinder's April litter!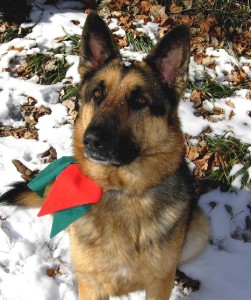 ---
February 1, 2011      –        
Hi Cynthia,
I sent you some new pics!!  Zeke has had the time of his life in  the snow today and I wanted to share with you! I begged him to come back in the house on the first pic, you can probably tell, he is looking at me like "mom do I have to"!   He is so awesome and just the sweetest boy!  We have had so much fun with        him. The family argues over who he loves the most.  I say  it's me, but honestly he would do anything for anyone of us!    I wanted to let you know also that we got all of his allergies and a list of dog foods he can have in case you run into allergies with his siblings. Just let me know if you want them, I can send you a copy.   I would not trade him for the world!!  Hope you are doing good, considering the blizzard (lol)!!
Thanks,
Tammy, MaKayla, and Shan
---
January 30, 2011 – Tidmores Rising Star Gisele TD aka Saphira & Tidmores Rising Star Hank TDI, RN, TD aka Renno      
Hi Cynthia –
Just wanted to let you know that both Saphira and Renno passed their Tracking Dog tests today!  They both did really good…I am very proud of them!  Tired, but proud!
Hope everything is going good there.
Sharon
---
January 18, 2011 – Tidmores Rising Star Hank TDI, RN      
Hi Cynthia –
Just wanted to let you know that Renno got his Rally Novice title this weekend!
He did really good handling all the noise and commotion of his first indoor show.  Very solid, not bothered by anything.   We  received many compliments on how beautiful he is.  Several people, including one of his judges, were commenting on how nice it  was to see a correctly structured Shepherd…all the way from his  ears to his rear angulations.  And he never met a stranger!  Everyone was taken by his wonderful temperament and he made many new friends.
So, once again, you should be proud of the hard work you do to breed such wonderful companions!
Thank You!
Sharon
Beauty X Dryker son 2009
---
January 16, 2011 – Tidmores Rising Star Gaspar, RN, CD       
Hi, wanted to let you know we can add CD. We passed on the  15th. We've been working a little on Open already. He's not so fond of the dumb bell but doing better with it.
Take care and I'll keep you posted.              
Deb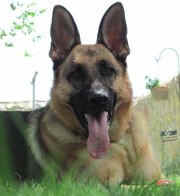 AKA TROY—Daisy X Bobby son 2008
---
January 07, 2011 –  Hello Ms. Tidmore sorry I Haven't stayed in touch but we've been pretty busy  between work, refereeing, and school. Here's some pix of Hoss. He's doing great and great with our kids especially the little one as you can see. I  will try to get a few more pix to send to you.